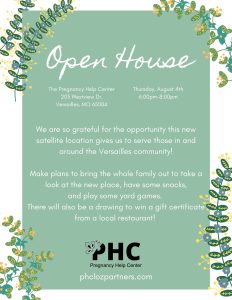 Thursday, August 4th 6-8pm.
203 Westview Dr. Versailles, MO
Come celebrate with us at our new satellite location in Versailles! It was truly God who made this new location possible and we would love to share the story of how it all came to be as we show you this beautiful new Pregnancy Center! Bring the whole family for some finger foods and stay awhile in the backyard to play games. We will also have a drawing to win a gift certificate to a local business.